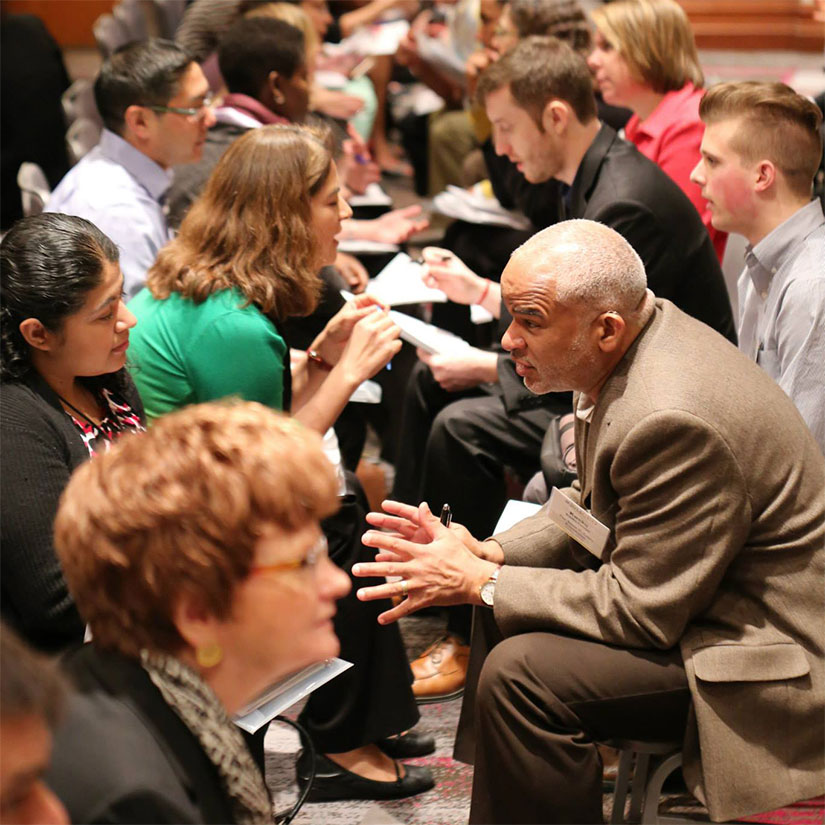 GEO's 2022 National Conference
Thank you for attending GEO's 2022 National Conference, hosted in partnership with Forefront.
Event Details
At GEO's 2022 National Conference, hosted in partnership with Forefront, grantmakers and other practitioners had the opportunity to come together in Chicago, Illinois to explore challenges and uncover solutions with fellow Grantmakers who are continuing to lean into transformational change in order to create a just, connected and inclusive society where we can all thrive.
Start: Monday, May 16, 7:30 AM Central
End: Wednesday, May 18, 2:00 PM Central
Our Regional Partner
Forefront
Forefront is Illinois' statewide association representing both grantmakers and nonprofits, as well as their advisors and allies. Forefront's mission is to build a vibrant social impact sector for all the people of Illinois. They provide education, advocacy, thought leadership, and facilitate collective action around issues that are important to their members and to the sector.
Learn more about Forefront
Program Highlights
A detailed version of our conference program with session titles and descriptions is available here.
Salons: Salon conversations are opportunities for participants to engage with peers around emergent topics that might not be represented in other programming. The salons are hour-long conversations lightly facilitated by one or two conference participants and open to groups of ten to twenty people. Salon conversations create space for topics that are often requested by members, or more emergent in nature – that may not be featured during breakout or workshop sessions. Salon conversations will not be recorded. Salon conversations are only available on the in-person conference program.
Short Talks: Short Talks are engaging 20-minute, keynote style presentations that challenge current philanthropic culture and practice or inspire participants to think about the topic, their work and/or lives differently. GEO will feature a diverse cohort of dynamic and experienced speakers from both inside and outside of philanthropy. Short talks are available on both the in-person and virtual conference program.
Plenaries: How will we continue rising to meet the needs of our communities in times of ongoing tumult and crisis? Our plenary mainstage will showcase a variety of speakers, highlighting works from individuals in philanthropy, movement spaces and beyond, to dive deep and provide both big ideas and actionable takeaways for grantmakers to incorporate into their practice. Our plenaries will also feature Chicago-based artists and creatives in performance. Plenary sessions are available on both the in-person and virtual conference program.
Breakout Sessions: Designed by members of the GEO community, breakout sessions offer 37 engaging and interactive sessions throughout the program exploring equity-centered work and approaches to topics such a capacity building, change management, learning and evaluation, strengthening relationships with nonprofits and flexible, reliable funding. In-person participants will have the option to select sessions during 4 rounds of breakouts to engage live with speakers and other participants. Select breakout sessions will offer a virtual encore session following the conference for virtual conference participants.
Pre-conference Workshops: These two-hour workshops provide an opportunity for participants to have a deeper dive into topics select topics designed by members of the GEO community. Sessions are interactive and designed so participants leave with tools and practices they can apply to their work. Pre-conference workshops are only available to in-person conference participants at an added cost of $150.
Active Hour: Physical, mental and spiritual wellness is a critical aspect of any social change work. We encourage our conference participants to pause a moment in their busy day and lives to connect with themselves and each other. The active hour will feature a Chicago-based instructor and be accessible to all fitness levels and abilities. The active hour is only available on the in-person conference program.
Peer Events: GEO strives to be a networked organization and to provide additional value and peer support to conference participants. Peer events can feature a roundtable discussion on a report, a networking breakfast or other opportunities for peer organizations to host an event onsite at GEO's 2022 National Conference. Peer events are only available on the in-person conference program. Organizations and individuals seeking to host a peer event can do so by reaching out to Cassie Maxwell at maxwell@geofunders.org
GEO's Health & Safety Policies and Commitment
Grantmakers for Effective Organizations (GEO) considers the health and safety of all those on-site at our 2022 National Conference a top priority and the conference is designed with this in mind. All in-person conference participants, speakers, vendors and GEO staff will be required to present proof of up-to-date vaccination for COVID-19 before attending any conference programs. For information about how to verify your vaccination status, check out our Frequently Asked Questions.
As we continue to plan for the conference in Chicago, GEO is monitoring COVID-19 guidance from the Centers for Disease Control and Prevention (CDC), the Illinois and Chicago Departments of Public Health, and other relevant public health authorities, and will implement the specific COVID-19 health and safety protocols required by applicable law and appropriate to the public health circumstances existing at the time of the conference. We are committed to keeping our community appropriately informed on the precautions we are setting for the conference as it relates to COVID-19 and will remain diligent in taking appropriate steps designed to promote the health and safety of our conference participants, speakers, vendors and GEO staff as well as the broader community of Chicago, particularly those most vulnerable amongst us.
At this time, we are preparing to institute the following health and safety protocols to reduce the risk of COVID-19 transmission and illness at our in-person conference:
All conference participants, speakers, vendors and GEO staff will be required to present proof of up-to-date vaccination for COVID-19 upon or prior to arrival at the conference venue.

Room layouts for conference sessions will be modified to allow for physical distancing and limited seating per table.

We will work with our host hotel, the Marriott Chicago Downtown Magnificent Mile, to ensure all conference rooms are cleaned and sanitized before and after breakout and general sessions. For more on Marriott's COVID-19 protocols, you can review their website here.

Following CDC recommendations for large indoor gatherings, we will require all conference participants, speakers, vendors and GEO staff to wear a mask during the conference at all times (unless they have received an approved accommodation) except for when eating or drinking.
Attendees are encouraged to bring their own masks. GEO will provide masks for all conference attendees who need them.

You must follow all state and local requirements related to traveling during the pandemic.
By registering for the conference, all participants are agreeing to comply with GEO's COVID-19 related policies. Anyone who refuses to follow GEO's COVID-19 related policies will be required to leave the conference without a refund and may be denied admission to future conferences.

Our commitment to health and safety is deeply rooted in our values of racial equity and accessibility. The COVID-19 pandemic has targeted the most vulnerable among us, leading to disproportionate deaths in Black and Indigenous communities as well as heightened vulnerability for members of our community with disabilities and/or chronic illness. By offering a virtual component and taking appropriate precautions at our conference, we are seeking to live out our values.
GEO reserves the right to update our policies at any time. Please continue to refer back to this website to keep up to date. If there is a significant shift in policy, we will email conference registrants directly.
For more information, please check out our Frequently Asked Questions here.
Access GEO's complete list of conference policies here.
Event Photos
We've collected a handful of photos of all the great sessions and happenings at the 2022 National Conference. Check them out to get a sense of the action.
Take a Look
Session Videos
Missed a session or want to rewatch something that inspired you?
Check out recordings of select conference programming here, including all plenary and short talk session.
See Session Videos
Session Resources
Looking for a resource from a session that inspired you or hoping to share some of what you learned with your colleagues?
Follow the link to our shared Dropbox of session resources from some of our presenters.
See Session Resources
Committees
Conference Program Committee
Jamaica Maxwell, The David & Lucile Packard Foundation (co-chair)

Leticia Peguero, Philanthropic Consultant and Coach (co-chair)

Lisa May Simpson, Forefront (conference partner)

Andrea Anderson, PhD, The Skillman Foundation

Cher-Wen DeWitt, Segal Family Foundation

Jessyca Dudley, Chicago African Americans in Philanthropy

Rev. Mary "Kaki" Friscks-Warren, Dan and Margaret Maddox Fund

Carmen Garcia, John D. and Catherine T. MacArthur Foundation

Jonathan Jayes-Green, Marguerite Casey Foundation

Jackie Williams Kaye, Wellspring Philanthropic Fund

Michelle McMurray, MSW, The Pittsburgh Foundation

Ryan Rodriguez, Community Foundation for Greater Atlanta

Jillian Rosen, Ann Arbor Area Community Foundation
Dr. Janine Saunders, The California Endowment

Jamie N. Schenker, The California Wellness Foundation

Dr. Shao-Chee Sim, Episcopal Health Foundation

Isabel Sousa, Edward W. Hazen Foundation
Conference Host Committee
John Palfrey, John D. and Catherine T. MacArthur Foundation (co-chair)
Heather Parish, Albert Pick, Jr. Fund (co-chair)
Monique Brunson Jones, Forefront (conference partner)
Kalia Abiade, Pillars Fund
Gayla Brockman, Michael Reese Health Trust
Sharon Bush, Grand Victoria Foundation
Gillian Darlow, Polk Bros. Foundation
Felicia Davis, Chicago Foundation for Women
Greg DiDomenico, Community Memorial Foundation
Liz Dozier, Chicago Beyond
David Farren, Gaylord and Dorothy Donnelley Foundation
Helene Gayle, The Chicago Community Trust
Heather Higgins Alderman, Illinois Children's Healthcare Foundation
Evan Hochberg, Crown Family Philanthropies
Mae Hong, Rockefeller Philanthropy Advisors
Dinaz Mansuri, The Mayer and Morris Kaplan Family Foundation
Cindy Moelis, Pritzker Traubert Foundation
Michelle Morales, Woods Fund Chicago
ángela munguía, AMPT: Advancing nonprofits
Mary O'Donnell, RRF Foundation for Aging
Maria Pesqueira, Healthy Communities Foundation
Toya Randall, Casey Family Programs
Darren Resiberg, Joyce Foundation
Kashif Shaikh, Pillars Fund
Unmi Song, Lloyd A. Fry Foundation
Dimitra Tasouras, Circle of Service Foundation
Christy Uchida, The Brinson Foundation
Supporters
Albert Pick Jr. Fund
Amalgamated Bank
AMPT: Advancing Nonprofits
Anonymous
The Brinson Foundation
Bush Foundation
California Healthcare Foundation
CareQuest Institute for Oral Health
Casey Family Programs
Center for Creative Leadership
Chicago Beyond
Chicago Foundation for Women
The Chicago Community Trust
Community Memorial Foundation
Crown Family Philanthropies
The David & Lucile Packard Foundation
Fidelity Charitable
Gaylord and Dorothy Donnelley Foundation
Grand Victoria Foundation
Healthy Communities Foundation
Illinois Children's Healthcare Foundation
John D. and Catherine T. MacArthur Foundation
The Joyce Foundation
Lloyd A. Fry Foundation
Marguerite Casey Foundation
The Mayer & Morris Kaplan Family Foundation
Michael Reese
Pillars Fund
Polk Bros. Foundation
Pritzker Traubert Foundation
Resilia
Rockefeller Philanthropy Advisors
RRF Foundation for Aging
Steans Family Foundation
Wellspring Philanthropic Fund
Woods Fund Chicago
Interested in supporting future GEO conferences? Please contact Lauren Gentry at gentry@geofunders.org for more information.
Conference Planning Process
The request for 2022 National Conference session proposals is now closed. Learn more about our conference planning process.
Learn more
Questions?
Contact Cassie Maxwell
Back to top