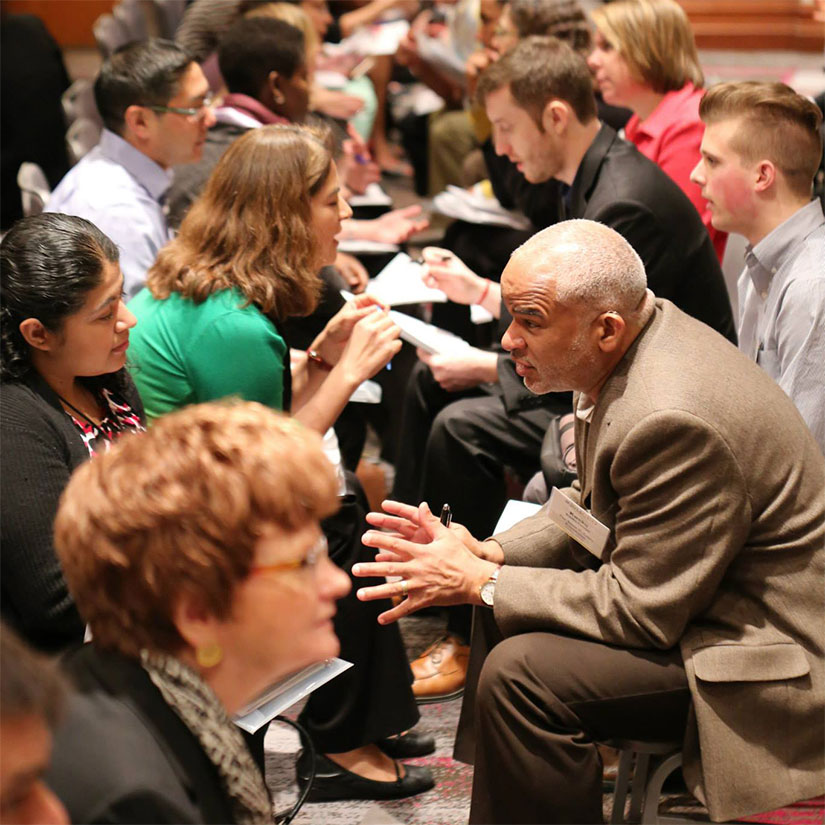 Spring 2022 Remote Learning Series
This six-session series gives GEO members an opportunity to gain insight and understanding on GEO's Smarter Grantmaking Practices.
Event Details
Learn more about Spring 2022 Remote Learning Series
Through the Community-Driven Philanthropy series, participants will have the opportunity to explore the practices that matter most to nonprofits through a combination of in-depth conversation, practical examples, and thought-provoking discussions with the GEO community.
Start: Thursday, March 10, 3:00 PM Eastern
End: Thursday, April 28, 4:30 PM Eastern
If you have any questions about the 2022 Remote Learning Series, please contact Sammi Santini at santini@geofunders.org.
Apply Now
The application deadline for the Spring 2022 Remote Learning Series has been extended until Friday, March 4th at 5pm ET. We will be sending acceptances and declinations out on a rolling basis starting Monday, February 28th.
Demographic information
Your interest in the series and learning cohort
What you are able to offer the series and your peers
How you view equity to be embodied throughout the series
How you plan to share knowledge gained with others
Session Dates
Interested in applying for the Spring 2022 Remote Learning Series? Please keep these application and session dates in mind.
Application Dates
Application Opens: Monday, February 7
Informational Webinar: Tuesday, February 15 3:00-3:30 PM Eastern
Application Window Closes: Friday, March 4, 5pm ET
Spring 2022 Remote Learning Series Sessions
Session 1: Thursday, March 10, 3:00-4:30 PM Eastern
Session 2: Thursday, March 17, 3:00-4:30 PM Eastern
Session 3: Thursday, March 31, 3:00-4:30 PM Eastern
Session 4: Thursday, April 7, 3:00-4:30 PM Eastern
Session 5: Thursday, April 21, 3:00-4:30 PM Eastern
Session 6: Thursday, April 28, 3:00-4:30 PM Eastern
About Remote Learning Series
This highly-interactive, six-session online learning series gives GEO members the opportunity to learn from peers about grantmaking approaches and practices that nonprofits say contribute most to their success, covering topics such as Community-Driven Philanthropy, Collaboration, Capacity Building and Learning and Evaluation.
Participants will:
Build their own capacity for having difficult conversations around the historically rooted relationship between philanthropy and community distrust.
Understand the conditions necessary to build and sustain trust with community members and the need for building the capacity for long-term social change.

Understand and use the Community and Nonprofit Participation Spectrum* and Philanthropic Processes for Participation to map current and future community-driven actions.
Do a deep dive on listening and feedback as a critical way to inform community-driven philanthropy, gaining familiarity with key competencies for high-quality feedback loops and their connection to equity, diversity, and inclusion.

Start to map and analyze power at the individual, organizational, and community levels to create plans to identify ways in which philanthropy can equitably cede power in communities and with nonprofit partners.

Get an overview of different toolboxes in the sector to help their future community-driven philanthropy efforts, including Fund for Shared Insight Listening & Feedback Funder Action Menu, NCRP Power Moves, and the Trust-Based Philanthropy Project.
Lean into current diagnoses, analyses and interpretations of our roles and the sector of philanthropy; and envision a future of community-driven integration and systems change.
The series is highly interactive and active participation is required to gain the most from this course.
Learn more about Remote Learning at GEO here.
Informational Webinar
During this informational webinar, attendees had the chance to hear from our program facilitators and learn about what to expect when applying for this series. The session included content sharing and a Q/A session with attendees. Watch the recording here.
Questions?
Contact Sammi Santini
Back to top