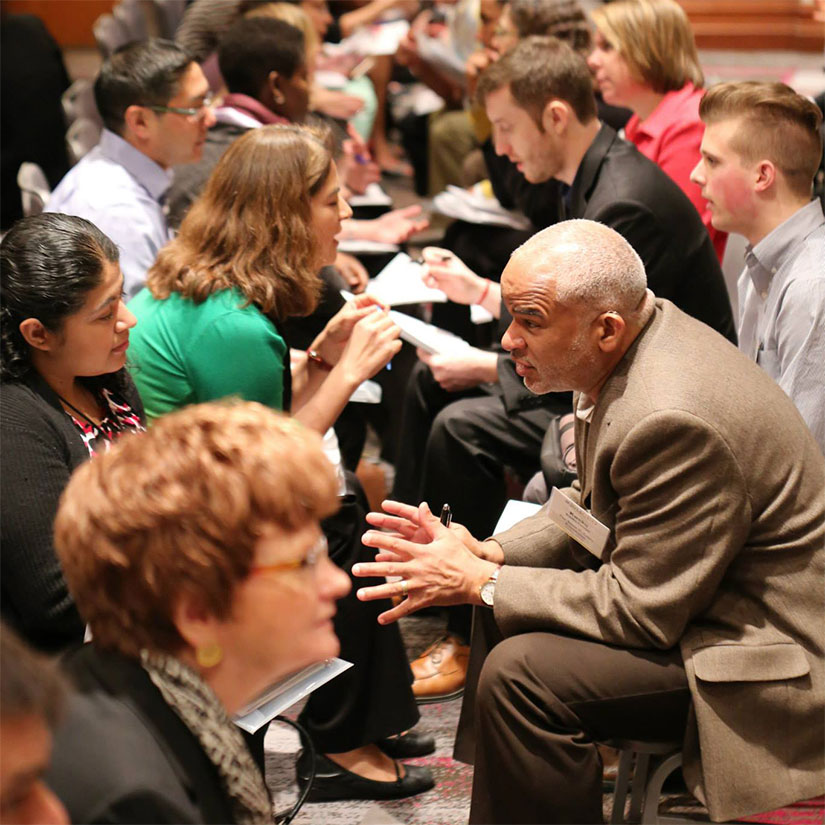 2021 Learning Conference
The virtual 2021 Learning Conference is designed to help participants make the leap from knowledge to action and to integrate learning into all aspects of their work.
Event Details
Hosted in partnership with Minnesota Council on Foundations, the virtual 2021 Learning Conference is designed to expose participants to cutting-edge practices in equity-informed, community-driven grantmaking while giving them the knowledge and tools to apply learning in all aspects of their work. We offer a range of perspectives and new ideas to go beyond the basics and support funders in engaging in more intentional learning practices both inside and outside of their organizations.
Start: Monday, May 24, 10:00 AM Central
End: Wednesday, May 26, 4:30 PM Central
Registration is now closed. The virtual 2021 Learning Conference begins at 10:00 AM Central.
Are you registered to attend the conference? Check for an email from registration@geofunders.org with a link to access the Conference Attendee Hub to participate in conference programming.
If you are having trouble accessing the virtual conference platform, contact Cassie Maxwell.
Program Highlights
Program
Salon Conversations are opportunities for conference participants to network and engage in lightly facilitated, emergent conversations. Please note that salon conversations will not be recorded.
Short Talks: Short talks are engaging 20-minute, keynote style presentations that challenge current philanthropic culture and practice or inspire participants to think about the topic, their work and/or lives differently. For our virtual 2021 Learning Conference, GEO will feature a diverse cohort of dynamic and experienced speakers to deliver thought-provoking presentations on our conference theme of learning and evaluation. Each Short Talk will be followed by a 15-minute Q&A session with the live audience.
Plenaries: What is the role of learning and evaluation in times of crisis? What does it look like to center community in this work? How can we use this function to improve the support we offer to communities? Our plenary mainstage will showcase a variety of diverse speakers – highlighting works from individuals in philanthropy, movement spaces and beyond – to dive deep into these topics and provide both big ideas and actionable takeaways that grantmakers can incorporate into their learning work.
Other Opportunities
Active Hour: Physical, mental and spiritual wellness is a critical aspect of any social change work. We encourage our conference participants to pause a moment in their busy day and lives to connect with themselves and each other in a virtual yoga class, offered by a Minnesota-based practitioner.

Artist Presentations: Join us as we highlight Minnesota-based artists and creatives in performance. While we can't gather in person together in Minneapolis, we are excited about celebrating the culture of Minnesota with participants where ever they are geographically.

Evening Networking: Community building is a key aspect of GEO conferences and remains critically important as we navigate the new normal and inability to meet in person. During a fun, informal virtual evening activity, meet or reconnect with colleagues in the field who are engaged in learning and grappling with the same questions about how to improve their internal learning practices.

Peer Events: GEO strives to be a networked organization and to provide additional value and peer support to conference participants. We offer participants and peer organizations the ability to host virtual peer events at GEO conferences.
Not yet a GEO Member? Interested in joining?
Join GEO now and receive free access (one registration valued at $500) to the 2021 Learning Conference. Simply complete the membership interest form here, and we will contact you to process your new membership and conference registration. Please note, membership payment must be received by May 1 for this special offer to be applied. More information about GEO Membership & Rates is available on the website.
If you have questions or would like to speak to someone directly, please contact Bo Dorsey, Membership & Development Specialist at dorsey@geofunders.org or 202-355-9544.
Committees
Conference Planning Committee
Chris Chin, Robins Foundation (co-chair)
Huilan Krenn, Ph.D., W.K. Kellogg Foundation (co-chair)
Fatima Angeles, The California Wellness Foundation

Hilary Cherner, Arabella Advisors
Suzanne Koepplinger, Minneapolis Foundation
David Lewis, Winthrop Rockefeller Foundation
Fontane Lo, Blue Shield of California Foundation

Dwayne Marshall, Community Foundation of Greater Chattanooga, Inc.
Paul Masiarchin, Minnesota Council on Foundations

Jessica Dalesandro Mindnich, Ph.D, The Ewing Marion Kauffman Foundation
Amoretta Morris, Borealis Philanthropy

Becky Pastner, St. David's Foundation

Melissa Sines, PEAK Grantmaking
Conference Host Committee
Kara Inae Carlisle, The McKnight Foundation (co-chair)
Anita Patel, Bush Foundation (co-chair)
Torrie Allen, Arts Midwest

JoAnn Birkholz, Medica Foundation

Tawanna Black, Center for Economic Inclusion

Susie Brown, Minnesota Council on Foundations

Imee Cambronero, The Minneapolis Foundation

Amelia Corl, GHR Foundation

Allison Corrado, Blue Cross and Blue Shield of Minnesota Foundation

Maria De La Cruz, Headwaters Foundation for Justice

Aretha Green-Rupert, Carlson Family Foundation

Jennifer Higgins, Target Foundation

Allie Larson, 3Mgives

Pamela Larson Nippolt, Margaret A. Cargill Philanthropies
Stephannie Lewis, Greater Twin Cities United Way

Mark Lindberg, Margaret A. Cargill Philanthropies

Denise Mayotte, The Sheltering Arms Foundation

Ann Naithani, Northwest Area Foundation

Gloria Perez, Women's Foundation of Minnesota

Jon Pratt, Minnesota Council of Nonprofits

R.T. Rybak, The Minneapolis Foundation

Tony Sertich, Northland Foundation

Chanda Smith Baker, The Minneapolis Foundation
Nadege Souvenir, Saint Paul & Minnesota Foundation

Erik Torch, Northland Foundation
Sponsorship opportunities are still available. Contact Emerald Adeyemi at adeyemi@geofunders.org for more information.
Questions?
Contact Allison Punch
Back to top