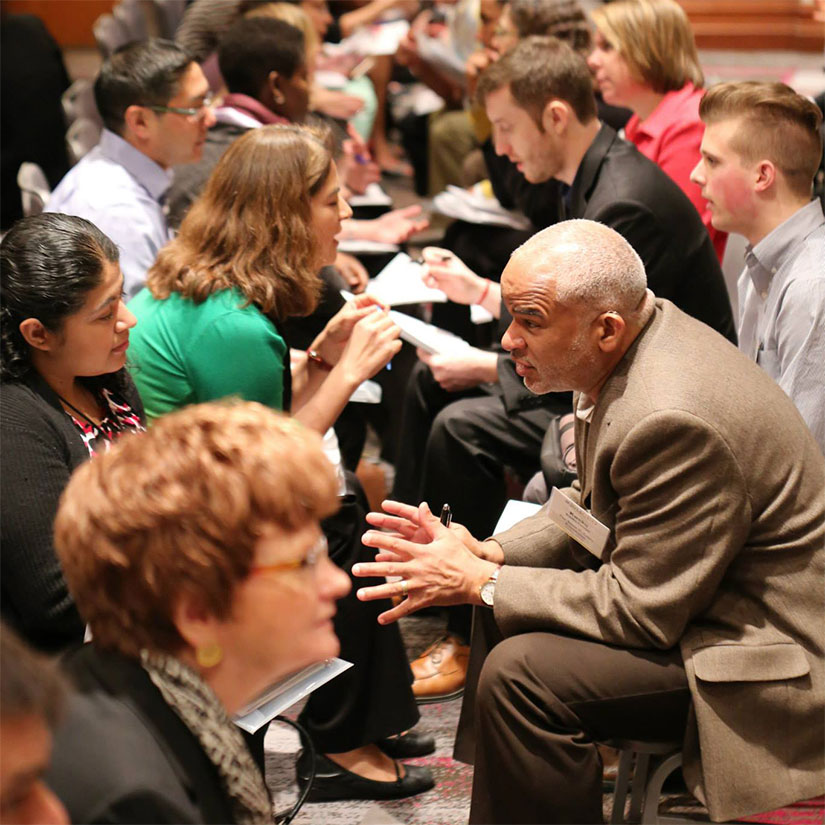 Partner Workshop: For Colored Folks Who Consider Their Mutual Liberation Enough
This session is for organizational leaders of color seeking to disrupt the ways white supremacy shows up within organizations and communities.
Event Details
This webinar aims to disrupt the ways white supremacy shows up in communities of color. Through interactive exercises, dialogue and practice, we will share a multi-racial framework for building authentic solidarity among Black, Indigenous and People of Color (BIPOC). A key learning objective of this training is for participants to be more equipped to demonstrate anti-racism, advancing race equity by actively dismantling white supremacy and anti-blackness within teams, organizations and communities.
We will identify ways to build BIPOC solidarity and anti-racism, examining cultural and historical disconnections that impede authentic relationships, highlighting strategies to be accountable to one another in the work to build anti-racist organizations and communities.
As a result of participation in this session, folks will:
Reflect on our personal and institutional entry points and challenges to anti-racist organizing in BIPOC spaces (including BIPOC spaces we may hold within predominately white organizations)
Understand how to de-center white people to enable BIPOC to unearth how internalized white supremacy, Native invisibility and anti-Blackness impede our efforts to collaborate across difference
Intentionally reframe the black/white binary to cultivate an anti-racist frame and practice to disrupt current paradigms for racial justice work in organizations and communities
Name and begin to disrupt dynamics of power that shape differences within and across communities of color, centering the diversity and intersectionality of BIPOC experience
Explore strategies to build inter-group BIPOC relationships to facilitate more effective organizing in teams, organizations, and movements
Please note that this workshop is only for individuals who identify as people of color (Indigenous, Black, Latinx, Asian/Pacific Islander, Native Hawaiian, Arab/Middle Eastern, biracial, multiracial and others identifying as non-white).
Facilitators
Fiona Kanagasingam is an equity leader overseeing an organization's transformation process to center equity in operations, programs and services. She has 18 years of professional experience in executive leadership and management, organizational development, and program development in the nonprofit, public, and private sectors. Most recently, Fiona was Director of Consulting at Community Resource Exchange where she led organizational development engagements focused on equity and inclusion, strategic planning, leadership development, talent management and change management for range of social justice and public sector organizations. She built and led CRE's Equity and Inclusion practice and Innovation practices, and led the organization's internal racial equity taskforce. She is the co-founder of the BIPOC Project (a Black, Indigenous and People of Color solidarity movement).
She also is an adjunct professor at Teachers College, Columbia University. Fiona holds a Bachelor's degree in Comparative Politics with a concentration in Women's and Gender Studies from Columbia University, and a Master's degree in Counseling from Monash University in Victoria, Australia. She is also a certified executive coach.
Merle McGee is an equity leader with responsibility for developing engagement strategies with an equity lens. Merle has extensive experience in nonprofit management, youth development, education, racial justice, and gender equity. She previously served as Chief Program Officer at the YWCA of the City of New York, where she oversaw multiple program portfolios. Merle recently published a chapter in Changemakers! Practitioners Advance Equity and Access in Out-of-School Time Programs on youth development, race, and critical practice. Merle received her Bachelor's degree from New York University and holds a Master's of Science in Non-Profit Management from the Milano School of International Affairs, Management and Urban Policy at New School University. She is the co-founder of the BIPOC Project (a Black, Indigenous and People of Color solidarity movement). Merle has been an Adjunct Assistant Professor of Public Administration at the Wagner School of Public Service at New York University, where she taught nonprofit consulting and Race and Identity
Merle McGee currently serves as an equity leader with responsibility for developing engagement strategies with an equity lens. Merle has extensive experience in nonprofit management, youth development, education, racial justice, and gender equity. She previously served as Chief Program Officer at the YWCA of the City of New York, where she oversaw multiple program portfolios. Merle recently published a chapter in Changemakers! Practitioners Advance Equity and Access in Out-of-School Time Programs on youth development, race, and critical practice. Merle received her Bachelor's degree from New York University and holds a Master's of Science in Non-Profit Management from the Milano School of International Affairs, Management and Urban Policy at New School University. She is the co-founder of the BIPOC Project (a Black, Indigenous and People of Color solidarity movement). Merle has been an Adjunct Assistant Professor of Public Administration at the Wagner School of Public Service at New York University, where she taught nonprofit consulting and Race and Identity in Organizations
Start: Tuesday, August 30, 2:30 PM Eastern
End: Tuesday, August 30, 6:00 PM Eastern
Back to top